All content
unless otherwise noted are copyrighted by
L. Vilchek or
Root Deco.
Last updated
December 2013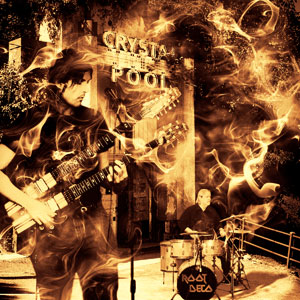 Root Deco
We are Root Deco. Welcome to our virtual home. From here we release our little fleet of sonic sky lanterns. We do so in the hope that the current species overpopulating the Blue Planet will finally Awaken. Folks, the Neighbors are watching and, as some of you have no doubt learned first hand, they're losing patience.
For those of you who've asked: our influences include Syd Barrett, Early Soft Machine, Bobby Fuller, The Yardbirds, The Kinks, The Byrds, U.S. Southern Rock, psychedelia and folk music from around the world. Add to that: animal rights, ufology, world hunger, metaphysics, unemployment, our ailing environment and mankind's place in the thick of it.
We hope you find something here to inspire you. Stay as long as you like.
What's New

We just release a promotion CD with six songs on it the will be part of our next CD entitled
Dark City
. The EP is entitled
Crawl 'For You Walk
. On our
video
page we have a new music video shot at a live event in 2012. It features our soom to be released song,
If I Never See You Again
. The most recent Root Deco full length CD is
Crystal Pool
. You will be able to find it at CD Baby and most major digital download sites. Take a dip into the
Crystal Pool
by watching the video below. For best results select the quality level for 720HD. For more information on Root Deco's discography, hear soundbytes from all of our music, plus get a free download, head over to the
music page
.
The new download is
If I Never See You Again
, from the
Crawl 'Fore You Walk
EP.